Infuse the spirit of Italian "La Bella Vita" into your soul!
Visits to historic Verona, famous Lake Garda, charming Tirol, and the breathtaking mountains of the Dolomites and experience famous wineries of the region. All this while staying at the upscale Boutique Villa and for the final night; on top of the Italian Alps. Experience the history, culture, cuisine, stunning views, and the fine wines of Northern Italy.
This tour will feature stunning drives throughout the mountains, including many switchbacks.
MAY 26 - JUNE 1, 2024
7 days & 6 nights   |   Maximum of 12 travelers
$5,995.00 p/p
(based on double occupancy)
PICK UP & DROP OFF: VENICE, ITALY
TOUR GUIDES: EMA
12 SPOTS AVAILABLE
SUNDAY
MEETING IN VENICE & CHECK-IN OUR VILLA
Pick up by a private van in Venice and drive to our upscale wine-estate Villa. A welcome reception followed by chef-prepared dinner and wine tasting.
*dinner and wine included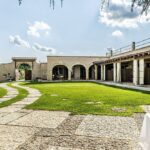 MONDAY
VERONA AND WINERY VISIT
Breakfast at the Villa. Scenic drive to Verona. Sightseeing and free time for shopping and lunch in Verona. Private Winery Tour and dinner.
*breakfast, dinner, and wine included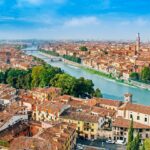 TUESDAY
BARDOLINO, LAKE GARDA & WINERY TOUR
Breakfast at the Estate Villa. Private boat tour on famous Lake Garda with stunning scenery and private Winery Tour. Visit of Bardolino town.  Dinner at the Villa.
*breakfast, dinner, and wine included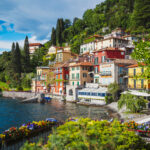 WEDNESDAY
SOAVE, COOKING CLASS & WINERY VISIT
Breakfast at the Estate Villa. Relax time, lunch at the Villa prepared during cooking class. Sightseeing in Soave. Private Winery Tour and Tasting. Dinner at the Villa.
* breakfast, lunch, dinner, and wine included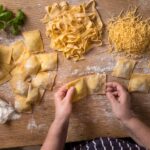 THURSDAY
SCENIC DRIVE, DOLOMITES, WINERY VISIT, CHECK INTO HOTEL IN COLFOSCO
Breakfast at the Villa and check out of the Villa. Private Winery Tour and Tasting. Lunch at an authentic Tyrolean Restaurant. Scenic drive through the Dolomites. Check in the Mountain Hotel. Dinner at the Resort
*breakfast, lunch, dinner, and wine included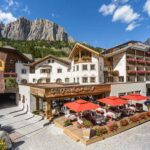 FRIDAY
LEISURE DAY AT THE RESORT IN DOLOMITES
Breakfast at the Resort. Free time to relax. Scenic gondola ride to a Mountain Lodge followed by Lunch. Leisure afternoon. Farewell dinner and tasting.
* breakfast, lunch, dinner and wine included
SATURDAY
GONDOLA RIDE, CORTINA & CIAO IN VENICE
Breakfast at the Resort. Stunning drive and gondola ride on the way to world-renowned Cortina. Late afternoon drop-off at Venice Marco Polo Airport.
*breakfast and wine included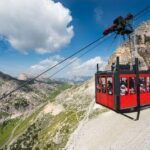 Set in the land of Amarone vineyards, our villa, a former quarry, has been renovated into a new life as a wellness center with white rock as a reminder of its heritage. Overlooking the easternmost part of the Valpolicella DOC valley, the Wine relais is rich with organic farm enchants and known for its chic charm with a cool contemporary design twist and the beauty of the panorama of the vineyards and hills.
The luxurious and very comfortable rooms come to life with eco-friendly architecture, skillfully blending wood, stone, iron, and natural beauty resonating Italian art and culture. An outdoor swimming pool, terraces with stunning views, and a recently developed wellness center is the perfect place for relaxation and treating yourself to a break from the rest of the world.
A pearl in the Ladin Dolomites realm of Alta Badia. A 4-star resort in Corvara, combines the traditional Tyrolean atmosphere of the Dolomite mountains with warm hospitality and modern luxury.
Kolfuschgerhof epitomizes the traditional Ladin style combined with a sophisticated design that offers a hallmark of contemporary luxury. Modern, clear structures and down-to-earth natural materials from the Val Badia Valley and traditional fabrics from South Tyrol highlight the spa and wellness area's high-quality and profound character. Enjoy some relaxation while admiring the breathtaking surroundings and natural beauty.
Contact us
We love to talk travel.
Just fill out the form and click send.
1625 Ord Way
Oceanside CA 92056
Email: travel@vinerawines.com
Phone: 800.371.9463 x 818